Golf Schools-South Africa
Sun City Golf Academy- Gary Player Country Club, Lost City- Sun City
Short Golf School- UK, Spain, China,
South Africa, Morocco
PGA South Africa- Bedfordview
Rondebosch Golf Club- Rondebosch
Pecanwood Golf and Country Club-
Hartbeesport Dam, Broederstroom
Fancourt Hotel and Country Club
Estate- George
Durban Country Club- Durban
De Zalze Golf Club- Somerset West
Cape Town
Simola Golf and Country Estate- Knysna
Ritson-Sole International Golf School Vacations- S. Africa, Ireland, Scotland
Pezula Championship Course and
Golf Club- Knysna
Glendower Golf Club- Bedfordview,
Gauteng, Johannesburg
South African Golf Association-
Benmore, Johannesburg
Leopard Creek Country Club- Malelane
Steenberg Golf Club- Tokai
Sydney Van Rensburg Golf Academy-
Somerset West, Stellenbosch
Alluvia Wine Estate- Stellenbosch
Pearl Valley Golf Estates- Paarl,
Stellenbosch
Westlake Golf Club- Cape Town
Womens Golf South Africa
Arabella Golf Resort- Western Cape,
Kleinmond
Selborne Hotel, Spa, and Golf Resort-
KwaZulu-Natal, Durban

David Riddle Golf- Pretoria Golf Club, Pretoria
Royal Cape Golf Club- Cape Town
Gammon Golf Instruction- Johannesburg
George Golf Club- George
The PGA Club- Sandton, Gauteng,
Johannesburg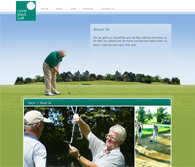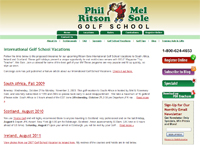 Ceres Golf Club- Ceres
Atlantic Beach Golf Club- Cape Town
Southbroom Golf Club- Southbroom, KwaZulu-Natal
Royal Johannesburg & Kensington Golf Club- Orange Grove, Johannesburg
Humewood Golf Course- Port
Elizabeth

Devonvale Golf and Wine Estate-
Koelenhof, Cape Town
The Golf Academy at the Tshwane University of Technology- Pretoria
Erinvale Estate Hotel and Spa-
West Somerset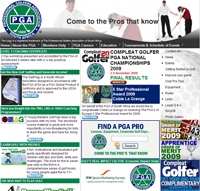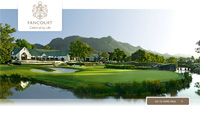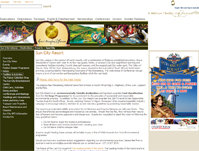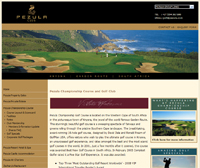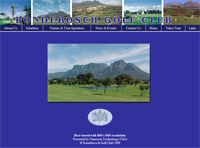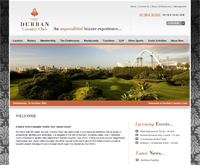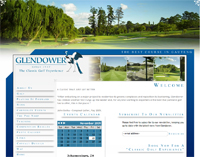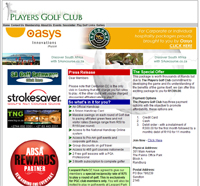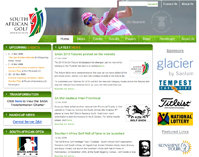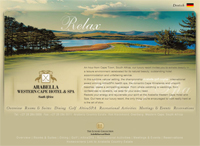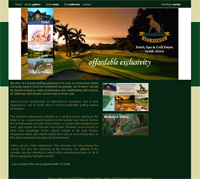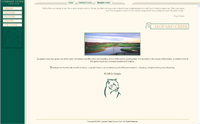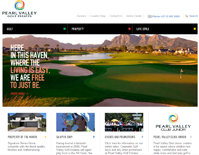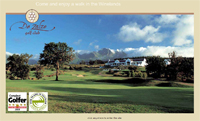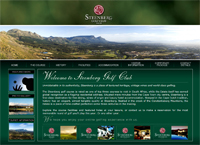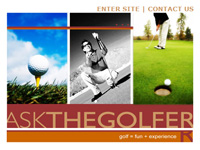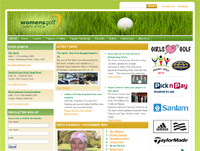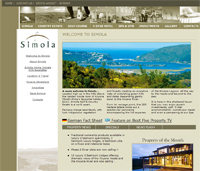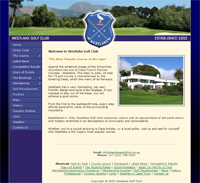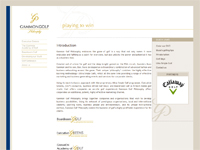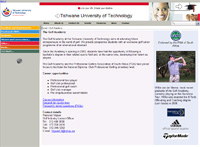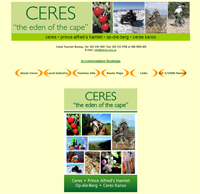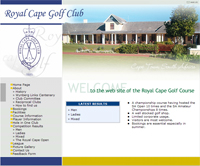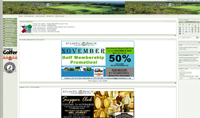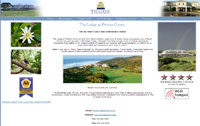 Princes Grant Lodge- KwaZulu-Natal, Stanger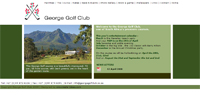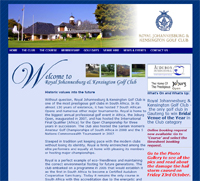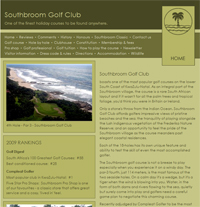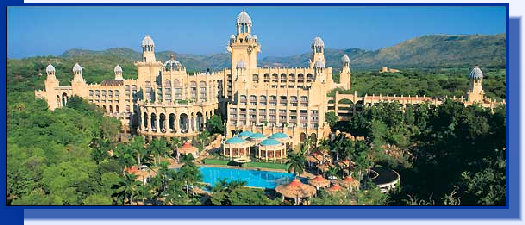 The Palace of the Lost City
Sun City Golf
Leopard Creek Malelane, Mpumalanga
Gary Player CC Sun City, North West
Fancourt Links George, Southern Cape
Durban CC Durban, KZN
Arabella Kleinmond, Western Cape
Pearl Valley Winelands, Western Cape
Wild Coast Port Edward, KZN
Royal J&K East Johannesburg, Gauteng
Elements Waterberg, Limpopo
Fancourt Montagu George Southern Cape
River Club Sandton, Gauteng
Simola Knysna, Southern Cape
Pecanwood Hartbeesport Dam
Fancourt Outeniqua George, Southern Cape
George George, Southern Cape
Humewood Port Elizabeth, East Cape
Prince's Grant KZN North Coast
Lost City Sun City, North West
Erinvale Somerset West, West Cape
Beachwood Durban, KZN
CCJ Woodmead Sandton, Gauteng
Zimbali Ballito, KZN North Coast
De Zalze Stellenbosch, West Cape
Oubaai Herold's Bay, Southern Cape
Pezula Knysna, Southern Cape
Sishen Kathu, Northern Cape
Kyalami CC Sandton, Gauteng
Fish River Fish River, Eastern Cape
Champagne Sports KZN, Central Drakensberg
Steenberg Cape Town, Western Cape
Royal J&K West Johannesburg, Gauteng
Hans Merensky Phalaborwa, Limpopo
Bryanston Sandton, Gauteng
Randpark Randburg, Gauteng
Zebula Waterberg, Limpopo
Pretoria CC Pretoria, Gauteng
Royal Cape Cape Town, West Cape
Maccauvlei Vereeniging, Gauteng
Roodepoort Gauteng
Wanderers Sandton, Gauteng
Selborne Pennington, KZN
Parkview Johannesburg, Gauteng
Clovelly Cape Town, West Cape
San Lameer KZN South Coast
Silver Lakes Pretoria, Gauteng
Modderfontein Johannesburg, Gauteng
Mt Edgecombe One Durban, KZN
Stellenbosch Stellenbosch, West Cape
Dainfern Sandton, Gauteng
Orkney North West
Goose Valley Southern Cape
Plettenberg Bay Plettenberg, Southern Cape
Killarney Johannesburg, Gauteng
Windsor Park Randburg, Gauteng
Irene CC Centurion, Gauteng
Southbroom KZN South Coast
NelspruitNelspruit, Mpumalanga
Paarl Paarl, West Cape
Woodhill Pretoria, Gauteng
Victoria CC Maritzburg, KZN
Royal Durban Durban, KZN
Umdoni Park Pennington, KZN
Rustenburg Rustenburg, North West
Leopard Park Mafiking, North West
Mossel Bay Mossel Bay, Southern Cape
Atlantic Beach Cape Town, West Cape
Umhlali Ballito, KZN
Benoni CC Benoni, Ekurhuleni
King David Cape Town, West Cape
Blue Valley Midrand, Gauteng
Goldfields West Carletonville, North West
Glenvista Johannesburg, Gauteng
Rondebosch Cape Town, West Cape
Centurion Centurion, Gauteng
Krugersdorp Krugersdorp, Gauteng
Wingate Park Pretoria, Gauteng
Westlake Cape Town, West Cape
Oppenheimer Park Welkom, Free State
Mt Edgecombe Two Durban, KZN
Bushman Sands Alicedale, East Cape
Mowbray Cape Town, West Cape
Reading Johannesburg, Gauteng
Graceland Secunda, Mpumalanga
Royal Port Alfred Port Alfred, East Cape
Milnerton Cape Town, West Cape
Zwartkop Pretoria, Gauteng
Mogol Lephalele, Limpopo
Bramble Hill George, Southern Cape
Bloemfontein Bloemfontein, Free State
ERPM Boksburg, Ekurhuleni
Kameeldoring Mokopane, Limpopo
State Mines Brakpan, Ekurhuleni
Tzaneen Tzaneen, Limpopo
Germiston Germiston, Gauteng
PE Golf Club Port Elizabeth, East Cape
Kloof Durban, KZN
St Francis Bay St Francis Bay, East Cape
Randfontein Randfontein, Gauteng
Blyvooruitzicht Carletonville, North West
Knysna Knysna, Southern Cape
Top 100 Golf Courses
1.) Decide what you are willing to spend before looking. The best schools charge in the low to mid 1000's, but do offer great amenities as well as highly professional instructors. Most of the best schools offer great vacation packages that are included in the price. Ask about special pricing. Some schools may drop their prices if they need students. If you are willing to commute, prices can be as low as $300.00.
2.) Look for 2 to 1 teaching ratio with 1 to 1 being ideal. Never use more than a 4 to 1 ratio unless you cannot afford the higher price schools.
3.) The school's instructors should be seasoned professionals that are highly qualified. Make sure at least 2 of the teaching professionals are recognized in the golf world/community. Use the internet search engines to research names of the instructors being used at the school you are considering.
4.) If you choose a school that includes accommodations and transportation included in the price, research the hotel as well. It is always better to have accommodations close to the golf course you are receiving lessons from. Most of the great schools will cater to your needs because word of mouth is there best advertisement for return business.
5.) There are certain schools that concentrate on certain aspects of teaching. Do you need work on your putting? Choose a school that is strong in that area of the game. If you need work on your swing, choose accordingly. Golf instruction websites will indicate if they specialize to certain weaknesses.
6.) The golf school should provide a specific lesson plan for your swing. They should tailor it specifically for you and not for everyone else. There is no way to research this other than word of mouth.
7.) The school should provide unlimited follow up via email or phone. I think this is probably the most important because it shows how genuine they are in improving your game.
8.) Look for testimonials. Do not rely on testimonials on their own brochures or websites. Look for ratings from other outside sources. These may not be available, but look anyway. It is a true measure of the school. Word of mouth is very powerful.
9.) If you should also think of the school as a vacation the accommodations and surrounding area should fit your lifestyle off the course. Also, look for golf schools that provide unlimited golf after your teaching sessions are over. Be sure to get your moneys worth.
10.) If you cannot afford the price of a golf school check the websites for free advice. There are many websites out there that give free lessons and tips. Some even provide video demonstrations.
The Internet is a great place to research the golf schools available in your area that meet your needs. Here are some keywords you can use when performing your golf school search:
Golf schools, Golf instruction, Golf swing, Free Golf tips, Golf lessons
When choosing a golf school you should consider these 10 basic rules;




Click Here
for PGA Tour Tournament Links, Info, Schedule and Results.
Welcome to 100golfschools.com's Golf School Directory. We have created these snapshot links from the front pages of the top Golf instruction websites in South Africa. This website does not endorse any of these schools over another, but does provide easy access to all the top schools. If your school would like to be included in this site please contact us at;
info@100golfschools.com
with the details.





Michel Monnard Golf School- Stellenbosch, KwaZulu-Natal, Cape Town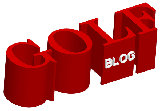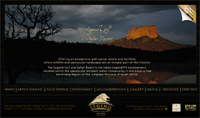 Legend Golf and Safari - Tshwane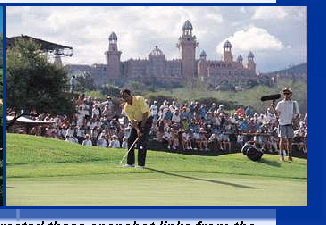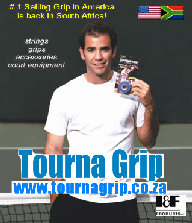 Hans Merensky Hotel and Spa – Golf in the Wild, Phalaborwa
Logical Golf Academy – Cape Town
The Natural Game – Natural Golf
Moe Norman Golf Academy, Cape Town, The Winelands, Fancourt, Lukimbi, Victoria Falls and more!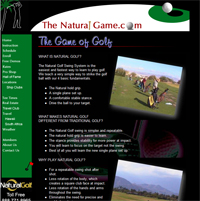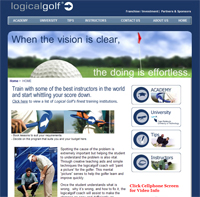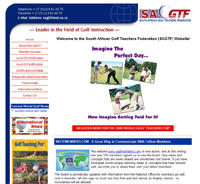 South African Golf Teachers Federation – Pretoria
Pinnacle Point Beach and Golf Resort – Mossel Bay
Oubaai Golf Club – Garden Route
Western Cape
Bloemfontein Golf Club – Bloemfontein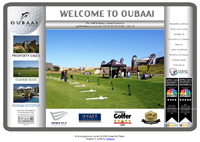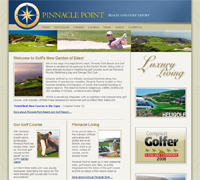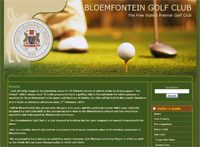 Paarl Golf Club – Western Cape
The River Club Golf Academy –
Cape Town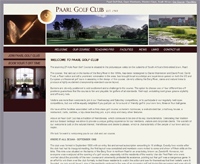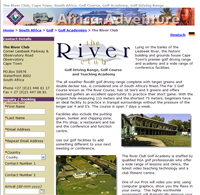 Port Elizabeth Golf Club –
Port Elizabeth
The Gamer Golf Balls
Top-Flite
Get your game on with the Top Filte Gamer golf balls. *3 Piece Construction *Resilient low compression core for great feel *Mantle layer designed to reduce driver spin *Soft thin cover for incredible greenside spin.
by Jerry Martin
Natural Golf Director of Travel
Your Tour Guide to South Africa

In 2006 I escorted a group of Natural Golfers for a 20 day tour to South Africa. As well as enjoying great golf, we discovered why South Africa's natural beauty and wildlife leaves its visitors mesmerized, why it's possible to afford its luxury and why it's the golf and natural adventure capital of the world. The friendly people, rich culture and yes, great golf made this the unforgettable trip of a lifetime. Read on about our journey, one that changed us beyond our expectations.

We started off in Cape Town, Mother City of South Africa, and the Western Cape, which is regarded as one of the most beautiful regions in the world. We took the tram to the top of the impressive Table Mountain, from which vantage point we could view the Twelve Apostles mountain range and the beautiful city spread out around us.

We played golf at Erinvale and Pearl Valley in the Winelands of Stellenbosch which is topographically similar in many ways to Napa Valley, California. Of course we did do a day of wine tasting since we had a 'designated driver', so a good time was had by all. Next we drove along the Garden Route, a scenic stretch of the southern coast of South Africa. It includes towns such as Mossel Bay, Knysna, Oudtshoorn, Plettenberg Bay and the town of George, home to the famous Fancourt Golf Resort. We stayed a few days to play the Links Course, home of the 2003 President's Cup and the beautiful Montagu Golf Course.

We also enjoyed a ride on the Outeniqua Choo Tjoe, South Africa's last remaining passenger steam train along the ocean en route to play yet another great golf course, Pezula. Similar to Pebble Beach, close to the ocean up on a cliff, the big difference is on Pezula there are baboons that come and take your golf ball!

South Africa: A Natural Golfer's Nature Paradise
Leopard Creek – an Incredible Course

From the ocean to the jungle, we then had the privilege of playing Leopard Creek, which is one of the most incredible golf courses in the world. Some parts of the golf course sit alongside Kruger National Park. The views are wild, to say the least. With crocodiles in the water between the ninth and 18th greens, and with the 13th green sitting about 50 feet above the bed of the Crocodile River, it was quite an adventure. We were the only group out that day. It was like having our own private country club.

Our next stop was Sabi Sabi, which means "Danger-Danger" in the world famous Kruger National Park which is the largest National Park in the world. I had told the group that we would be roughing it for few days while on safari. Little did they know that my idea of roughing it would be a Five Star Resort! This resort was totally inclusive. Each day we had an AM and PM game drive where we were hoping to see all the big five. The Big Five in Sabi Sabi are the Water Buffalo, Elephant, Rhino, Lion and Cheetah. When it was time to depart not one group member wanted to leave. They liked my idea of "roughing it." Sabi Sabi Bush Lodge was definitely one of the highlights of the trip.

Our last stop was Sun City, home to the internationally prestigious Nedbank Million Dollar Golf Challenge. We played both The Gary Player Golf Course, and the desert-style Lost City Golf Course with crocodiles at the 13th hole, which provided excitement for all. Sun City is renowned as South Africa's premier holiday resort offering a multitude of attractions and activities. It resembles Las Vegas, African style.









Callaway Golf Tour Series Golf Glove. Tour-authentic glove made of 100 percent Sensory Skin cabretta leather. Features X-SPANN2 Technology in the last two fingers for personalized fit and great feel. Also features 2-way Vent Flex mesh inserts for superior ventilation and flexibility.
Golf
Gloves