World Golf Village- World Golf Hall of Fame
St. Augustine, Florida
Golf Schools-United States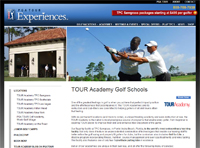 PGA Tour Golf Experiences- Arizona, Florida, Nevada, South Carolina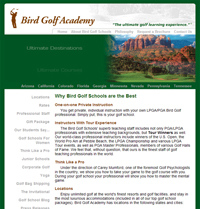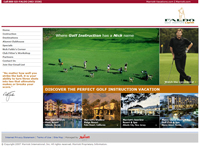 Golf Dynamics- Austin, TX. Colorado Springs, CO.
Faldo Golf Institute- California, Florida, New Jersey
Bird Golf Academy- Arizona, California, Colorado, Florida, Georgia, Minnesota, Nevada, Pennsylvania, Tennessee.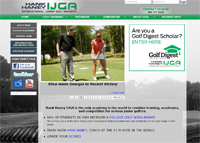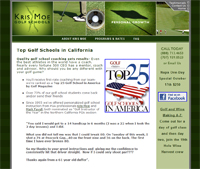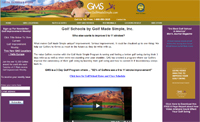 Kris Moe Golf Schools- California. Arizona
Executive Golf School- Arizona, California, Connecticut, Florida, Indiana, South Carolina, Nevada, Dominican Republic, British Columbia, Ireland
International Junior Golf Academy-
Hilton Head Island, SC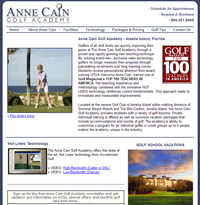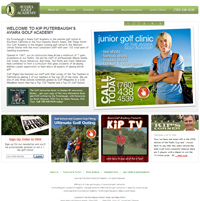 www.golfmadesimple.com
Arizona, California, & Florida
Aviara Golf Academy - Kip Puterbaugh San Diego, CA
Anne Cain Golf Academy- Amelia Island, FL
Ben Hogan Golf Schools - Phoenix, AZ. And most large American Cities.
Classic Swing Golf School-
Myrtle Beach, SC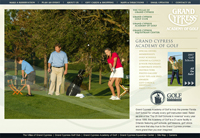 Grand Cypress Academy of Golf
Grand Cypress Golf Club- Orlando, FL.
Craft-Zavichas Golf School- Pueblo, CO.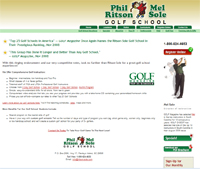 Phil Ritson, Mel Sole Golf School- Georgia, Illinois, Missouri, New York, South Carolina, Ontario, Canada, Malinalco, Mexico
Ben Sutton Golf School- Sun City, FL.
Windham, NY.
Butch Harmon Golf School-
Henderson, NV.
Martin Green Golf Academy- Panama City, FL.
Menifee Valley Golf School- Fallbrook, Murrieta, Warner Springs, Riverside, Lake Elsinore, CA.
Jacobs' is the #1 brand of golf instruction in the world. They have 25 locations in the US and Canada. They have been in business for more than 30 years, and have more instructors, graduating more students from more destinations than any other brand. Locations include: Arizona, California, Florida, Nevada, New Jersey, New York, South Carolina, Texas, Wisconsin, and Canada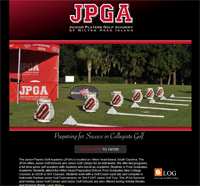 Junior Players Golf Academy-
Hilton Head Island, SC
The Island Golf School- California, Georgia, Missouri, South Carolina
VIP Golf Academy- Florida, Arizona, California, Las Vegas, Hilton Head. SC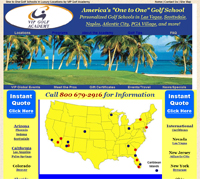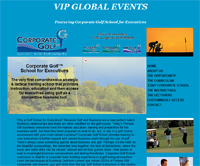 Corporate Golf School- School for Executives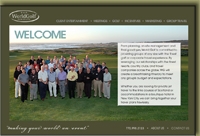 World Golf Group
World Golf School Adventures- Durango, CO.
Chris Foley Golf Schools- Brainerd, MN.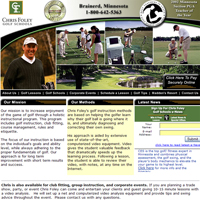 1.) Decide what you are willing to spend before looking. The best schools charge in the low to mid 1000's, but do offer great amenities as well as highly professional instructors. Most of the best schools offer great vacation packages that are included in the price. Ask about special pricing. Some schools may drop their prices if they need students. If you are willing to commute, prices can be as low as $300.00.
2.) Look for 2 to 1 teaching ratio with 1 to 1 being ideal. Never use more than a 4 to 1 ratio unless you cannot afford the higher price schools.
3.) The school's instructors should be seasoned professionals that are highly qualified. Make sure at least 2 of the teaching professionals are recognized in the golf world/community. Use the internet search engines to research names of the instructors being used at the school you are considering.
4.) If you choose a school that includes accommodations and transportation included in the price, research the hotel as well. It is always better to have accommodations close to the golf course you are receiving lessons from. Most of the great schools will cater to your needs because word of mouth is there best advertisement for return business.
5.) There are certain schools that concentrate on certain aspects of teaching. Do you need work on your putting? Choose a school that is strong in that area of the game. If you need work on your swing, choose accordingly. Golf instruction websites will indicate if they specialize to certain weaknesses.
6.) The golf school should provide a specific lesson plan for your swing. They should tailor it specifically for you and not for everyone else. There is no way to research this other than word of mouth.
7.) The school should provide unlimited follow up via email or phone. I think this is probably the most important because it shows how genuine they are in improving your game.
8.) Look for testimonials. Do not rely on testimonials on their own brochures or websites. Look for ratings from other outside sources. These may not be available, but look anyway. It is a true measure of the school. Word of mouth is very powerful.
9.) If you should also think of the school as a vacation the accommodations and surrounding area should fit your lifestyle off the course. Also, look for golf schools that provide unlimited golf after your teaching sessions are over. Be sure to get your moneys worth.
10.) If you cannot afford the price of a golf school check the websites for free advice. There are many websites out there that give free lessons and tips. Some even provide video demonstrations.
The Internet is a great place to research the golf schools available in your area that meet your needs. Here are some keywords you can use when performing your golf school search:
Golf schools, Golf instruction, Golf swing, Free Golf tips, Golf lessons.
When choosing a golf school you should consider these 10 basic rules;
Welcome to 100golfschools.com's Golf School Directory. We have created these snapshot links from the front pages of the top Golf instruction websites in the World. Click on the Photos to go to the selected site. We have listings by all 50 States in the U.S. and other parts of the world. This website does not endorse any of these schools over another, but does provide easy access to all the top schools. If your school would like to be included in this site please contact us at;
info@100golfschools.com
with the details.
United States Top 100 Golf Courses
PINE VALLEY G.C., Pine Valley, NJ
SHINNECOCK HILLS G.C., Southampton, NY
AUGUSTA NATIONAL G.C., Augusta, GA
CYPRESS POINT CLUB, Pebble Beach, CA
OAKMONT C.C., Oakmont, PA
PEBBLE BEACH G. LINKS, Pebble Beach, CA
MERION G.C. (East), Ardmore, PA
WINGED FOOT G.C. (West), Mamaroneck, NY
SEMINOLE G.C., Juno Beach, FL
CRYSTAL DOWNS C.C., Frankfort, MI
MEDINAH C.C. (No. 3), Medinah, IL
SAND HILLS G.C., Mullen, NE
NATIONAL G. LINKS OF AMERICA, Southampton, NY
PACIFIC DUNES, Bandon, OR
WADE HAMPTON G.C., Cashiers, NC
FISHERS ISLAND CLUB, Fishers Island, NY
OAKLAND HILLS (South), Bloomfield Hills, MI
MUIRFIELD VILLAGE G.C., Dublin, OH
PINEHURST RESORT & C.C. ( 2), Pinehurst, NC
THE COUNTRY CLUB (Clyde/Squirrel), Brookline, MA
BUTLER NATIONAL G.C., Oak Brook, IL
VICTORIA NATIONAL G.C., Newburgh, IN
THE OLYMPIC CLUB (Lake), S. Francisco, CA
WHISTLING STRAITS (Straits), Haven, WI
OAK HILL C.C. (East), Rochester, NY
BETHPAGE ST. PARK (Black), Farmingdale, NY
SHADOW CREEK, North Las Vegas, NV
CHICAGO G.C., Wheaton, IL
KINLOCH G.C., Manakin-Sabot, VA
PRAIRIE DUNES C.C., Hutchinson, KS
BANDON DUNES, Bandon, OR
SOUTHERN HILLS C.C., Tulsa, OK
QUAKER RIDGE G.C., Scarsdale, NY
LOS ANGELES C.C. (North), Los Angeles, CA
THE HONORS COURSE, Ooltewah, TN
CASTLE PINES G.C., Castle Rock, CO
SAN FRANCISCO G.C., San Francisco, CA
THE OCEAN COURSE, Kiawah Island, SC
THE PRINCE COURSE, Princeville, Kauai, HI
THE GOLF CLUB, New Albany, OH
INVERNESS CLUB, Toledo, OH
OLYMPIA FIELDS (North), Olympia Fields, IL
WINGED FOOT G.C. (East), Mamaroneck, NY
BALTUSROL G.C. (Lower), Springfield, NJ
FOREST HIGHLANDS (Canyon), Flagstaff, AZ
ARCADIA BLUFFS G.C., Arcadia, MI
THE QUARRY AT LA QUINTA, La Quinta, CA
MILWAUKEE C.C., River Hills, WI
FLINT HILLS NATIONAL G.C., Andover, KS
SHOAL CREEK, Shoal Creek, AL
RICH HARVEST LINKS, Sugar Grove, IL
SPYGLASS HILL G. CSE., Pebble Beach, CA
CHERRY HILLS C.C., Englewood, CO
KITTANSETT CLUB, Marion, MA
CAMARGO CLUB, Indian Hill, OH
GARDEN CITY G.C., Garden City, NY
SOMERSET HILLS C.C., Bernardsville, NJ
SCIOTO C.C., Columbus, OH
DALLAS NATIONAL G.C., Dallas, TX
SAND RIDGE G.C., Chardon, OH
RIVIERA C.C., Pacific Palisades, CA
INTERLACHEN C.C., Edina, MN
LOST DUNES G.C., Bridgman, MI
EUGENE C.C., Eugene, OR
GRANDFATHER G. & C.C., Linville, NC
MAYACAMA G.C., Santa Rosa, CA
BLACK DIAMOND (Quarry), Lecanto, FL
VALHALLA G.C., Louisville, KY
BLACKWOLF RUN (River), Kohler, WI
DOUBLE EAGLE CLUB, Galena, OH
CALUSA PINES G.C., Naples, FL
MAIDSTONE CLUB, East Hampton, NY
SANCTUARY, Sedalia, CO
GALLOWAY NATIONAL G.C., Galloway, NJ
OCEAN FOREST G.C., Sea Island, GA
SAHALEE (South/North), Sammamish, WA
MONTEREY PENINSULA C.C. (Shore), Pebble Beach, CA
LONG COVE CLUB, Hilton Head Island, SC
TPC SAWGRASS (Players Stadium), Ponte Vedra Beach, FL
COLONIAL C.C., Fort Worth, TX
THE ESTANCIA CLUB, Scottsdale, AZ
LAUREL VALLEY G.C., Ligonier, PA
TULLYMORE G.C., Stanwood, MI
EAST LAKE G.C., Atlanta, GA
PLAINFIELD C.C., Plainfield, NJ
CONGRESSIONAL C.C. (Blue), Bethesda, MD
PEACHTREE G.C., Atlanta, GA
SHOREACRES, Lake Bluff, IL
HAZELTINE NATIONAL G.C., Chaska, MN
HUDSON NATIONAL, Croton-on-Hudson, NY
SAGE VALLEY G.C., Graniteville, SC
SYCAMORE HILLS G.C., Fort Wayne, IN
HARBOUR TOWN G. LINKS, Hilton Head Is, SC
CANTERBURY G.C., Beachwood, OH
THE PRESERVE G.C., Carmel, CA
THE VALLEY CLUB OF MONTECITO, Santa Barbara, CA
THE HOMESTEAD(Cascades), Hot Springs, VA
KIAWAH ISLAND CLUB (Cassique), Kiawah Island, SC
PETE DYE G.C., Bridgeport, WV
HAWKS RIDGE G.C., Ball Ground, GA
The 25 Best Golf Schools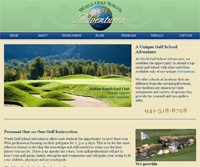 Wright Balance Golf Schools- Dr. David Wright, Coto de Caza, CA
Rick Smith Golf Academy- Tiburon Golf Club- Naples, FL., Treetops Resort,
Gaylord, MI.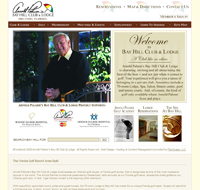 Arnold Palmer's Bay Hill Club and Lodge- Orlando, FL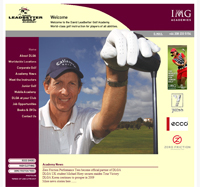 David Leadbetter Golf Academy- Bradenton, Champions Gate, FL.
Roland Stafford Golf Schools- Deerfield Beach, FL., Winham, Bristol Harbour, NY.,
Heritage Hills, PA.
Pinehurst Golf Academy- Pinehurst, NC.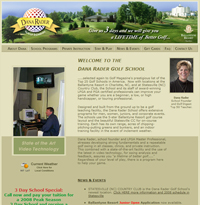 Dana Rader Golf School- Charlotte, NC.
Pine Needles- Souther Pines, NC.
David Glenz Golf Academy-
Crystal Springs Resort- Franklin, NJ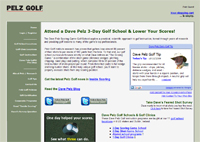 Pelz Golf Schools- One Day Clinics, Golf Schools, Several U.S. Locations
Jim McLean Golf Schools- AZ, CA, FL, MI, TX.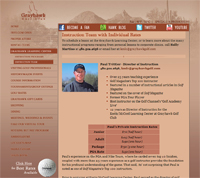 PGAProfessional.com- Oakland, San Francisco, CA.
Steve Dresser Tradition Golf - School- Pawley's Island, SC
Kostis McKord Learning Center - Grayhawk Golf Club, Scottsdale, AZ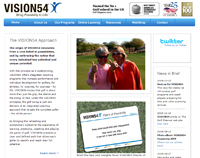 Vision54- Lynn Marriott, Pia Nilsson
Legacy Golf Resort, Phoenix, AZ.
Golf Schools of Scottsdale, AZ.
Todd Sones Impact Golf- Vernon Hills, IL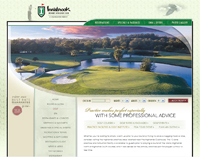 Innisbrook Resort and Golf Club- Innisbrook Golf Institute, Tampa, FL.
Hank Haney Golf Schools- Dallas-
Ft. Worth, Lewisville, Texarkana, TX.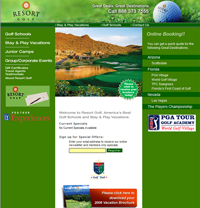 Resort Golf Schools - Arizona, Florida, Nevada
McGetrick Golf Academy- Denver, CO.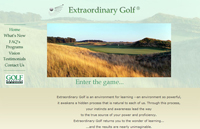 Extraordinary Golf- Carmel, CA.
Jim Hardy Golf- The Plane Truth,
Houston, TX.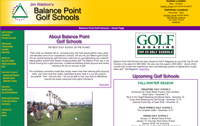 Balance Point Golf Schools- Palm Springs, CA.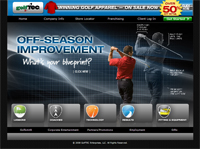 Golftec, U.S., Several Locations
Kapalua Resort- Lahaina, Maui, Hawaii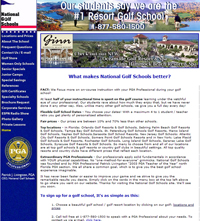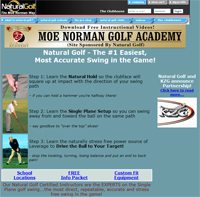 National Golf School - California, Florida, Massachusetts, New Hampshire, New Jersey, New York, New Mexico, North Carolina, South Carolina, Pennsylvania, Texas, & Wisconsin
Natural Golf Schools- US, Canada, Mexico, Several Locations
PGA Learning Center- PGA Village,
Port St. Lucie, FL.
Sterling Golf Academy - Arizona, Florida, Nevada, Canada
Womens Executive Golf School- Arizona, California, Connecticut, Florida, Georgia, South Carolina, Nevada, Montana, Oregon, Texas
Mike Bender Golf Academy-
Lake Mary Florida
Jim Flick Golf Instruction- Carlsbad, CA.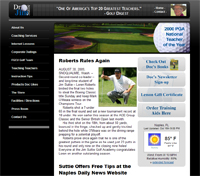 Jim Suttie's Golf Training Center-
Cog Hill Golf and CC- Lemont, IL.
Click Here
for PGA Tour Tournament Links, Info, Schedule and Results.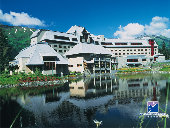 Wyoming
Arizona
South Africa
Cancun
St. Andrews
Alaska
Vermont
North Carolina
Delaware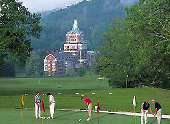 Virginia
South Carolina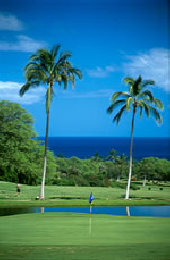 Hawaii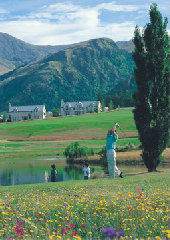 New Zealand
California
Idaho
Canada
New Mexico
Banff Springs
Georgia
The Gamer Golf Balls
Top-Flite
Get your game on with the Top Filte Gamer golf balls. *3 Piece Construction *Resilient low compression core for great feel *Mantle layer designed to reduce driver spin *Soft thin cover for incredible greenside spin.
Callaway Golf Tour Series Golf Glove. Tour-authentic glove made of 100 percent Sensory Skin cabretta leather. Features X-SPANN2 Technology in the last two fingers for personalized fit and great feel. Also features 2-way Vent Flex mesh inserts for superior ventilation and flexibility.
Golf
Gloves
Acrylic Awards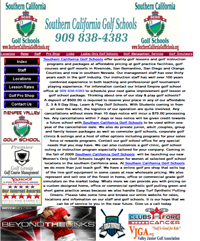 Southern California Golf Schools - Fallbrook, Murrieta, Warner Springs, Riverside, Lake Elsinore, CA.
WRIGHT BALANCE GOLF ACADEMY
Mission Viejo, California
KRIS MOE GOLF SCHOOLS
Glen Ellen, California
VISION 54
Phoenix, Arizona

BUTCH HARMON SCHOOL OF GOLF
Las Vegas, Nevada
EXTRAORDINARY GOLF
Carmel, California

AVIARA GOLF ACADEMY
Carlsbad, California
McGETRICK GOLF ACADEMY
Denver, Colorado
JIM MCLEAN GOLF SCHOOL - TEXAS
Ft. Worth, Texas

CHUCK COOK GOLF ACADEMY
Austin, Texas

ACADEMY OF GOLF DYNAMICS
Austin, Texas

KAPALUA GOLF ACADEMY
Lahaina, Maui, Hawaii

JACK NICKLAUS ACADEMY OF GOLF
St. George, Utah

TODD SONES IMPACT GOLF
Vernon Hills, Illinois

CRYSTAL MOUNTAIN GOLF SCHOOL
Thompsonville, Michigan

RICK SMITH GOLF ACADEMY
Gaylord, Michigan
KINGSMILL RESORT GOLF ACADEMY
Williamsburg, Virginia

PINEHURST GOLF ACADEMY
Pinehurst, North Carolina

DANA RADER/ BALLANTYNE RESORT
Charlotte, North Carolina

CLASSIC SWING GOLF SCHOOL
Myrtle Beach, South Carolina
PHIL RITSON-MEL SOLE GOLF SCHOOL
Myrtle Beach, South Carolina
DAVID LEADBETTER GOLF ACADEMY
Champions Gate, Florida

MIKE BENDER GOLF ACADEMY
Lake Mary, Florida

BRAD BREWER GOLF ACADEMY
Orlando, Florida

ARNOLD PALMER GOLF ACADEMY
Orlando, Florida
GRAND CYPRESS ACADEMY OF GOLF
Orlando, Florida